Welcome to Our Connecticut Site!
The Connecticut Society of Mayflower Descendants welcomes inquiries and appreciates interest in our activities and publications. Our members all have demonstrated direct descent from the Pilgrims or their companions who bravely crossed the gale-ridden Atlantic in the Mayflower in 1620.

We have organized as a society to commemorate the spirit of these brave people who had such strength in times of adversity. Beginning
with the signing of The Mayflower Compact, our ancestors created a self-governing community founded upon democratic principles.
NOW AVAILABLE
2020 CELEBRATION ITEMS

Membership Eligibility
You are eligible to join our society if you can provide documentation demonstrating that you are a direct descendant of a passenger who sailed to New England on the Mayflower in 1620.

If you believe you would qualify as a member, we urge you to complete our Lineage Synopsis Form.
CT Society Officers
Governor - Mary Brown mbrown@ct.metrocast.net
Deputy Gov - Greg Thompson GThomp5749@aol.com
Recording Secretary - Deanna Anglovich deanna.ct@sbcglobal.net
Corresponding Sec. -Donna Mangiafico djmangiafico@aol.com
Treasurer - David Grant sybilcreek@yahoo.com
Historian - Midge Hurtuk Mhurtuk@aol.com
Elder - Rev. Jean Knapp faith@99main.com
Captain - Bill Lane lanewjg@comcast.net
Archivist - Greg Thompson GThomp5749@aol.com
Asst General for CT - Mary Brown mbrown@ct.metrocast.net


Board of Assistants
William Warner - bill.warner@juno.com
Joan Prentice - jowp32@hotmail.com
Elisabeth Edwards - dogdance00@aol.com
Julia Post - jppart@sbcglobal.net
Mary Agliardo - mlagliardo@sbcglobal.net
Donald Studley- dtstudley@snet.net
Committees for the Current Year
Auditor
Brian Bristol
By - Laws
Robert Cushman - Cje119@aol.com
Joan Prentice - jowp32@hotmail.com
Computer Scanning
Gregory E Thompson - GThomp5749@aol.com
Education
Ellen Swayne - eswayne@comcast.net
Mary Brown - mbrown@ct.metrocast.net
David Grant - sybilcreek@yahoo.com
Donna Mangiafico - djmangiafico@aol.com
Cape Cod Landing as Recreated
in the Plymouth National Wax Museum


Renew your Membership Online!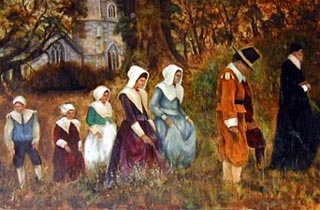 Painting in St. Wilfred's Church, Scrooby, England


Finance Committee
David Grant - sybilcreek@yahoo.com
Donald Studley - dtstudley@snet.net
Joan Prentice - jowp32@hotmail.com
Charles Zoubek - clzoubek@yahoo.com
Hospitality
William Lane - lanewjg@comcast.net
Insignia
Marg Studley - wes91@aol.com
Juniors
Mary Brown - mbrown@ct.metrocast.net
Ellen Swayne - eswayne@comcast.net
Beverly Warner - bill.warner@juno.com
Membership
Joan Prentice - jowp32@hotmail.com
Gregory Thompson - GThomp5749@aol.com
Newsletter
Elisabeth Edwards - dogdance00@aol.com
Mary Agliardo - mlagliardo@sbcglobal.net
Nominations
Deanna Anglovich - Deanna.ct@sbcglobal.net
William Lane - lanewjg@comcast.net
Press & Publicity
Donna Mangiafico - djmangiafico@aol.com
Programs
Mary Wassung - mww18@sbcglobal.net
Reservations
Beverly Warner - bill.warner@juno.com
Scholarship
Bill Warner - bill.warner@juno.com
Deanna Anglovich - Deanna.ct@sbcglobal.net
Sally D'Amato - PrimoSara@aol.com